2008 Part 4:
Belfort to Etreaupont
Everyone envied Cat this morning. We might have laughed at his hire car when he finally turned up in Belfort yesterday, but today we were set for a very wet day and it was Cat who'd be having the last laugh. The forecast today was for heavy rain across the whole of northern France and there would be no escaping from it. The plan was simple. We were going to take the fastest most direct route possible to Etreaupont.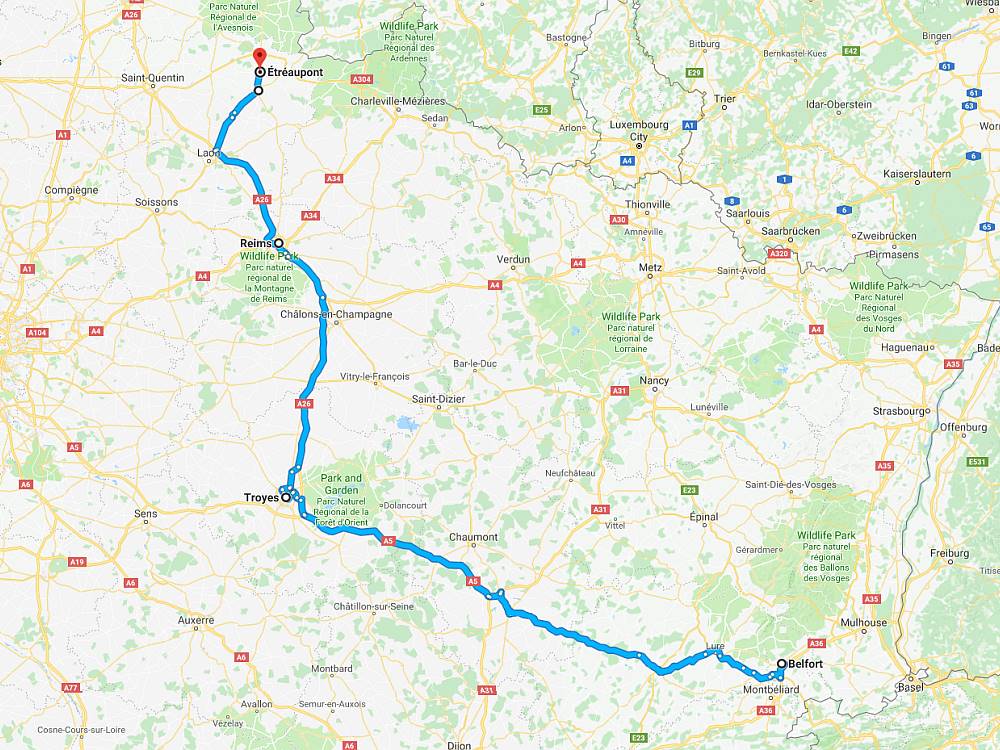 The route we took was simple and involved us taking the D438 to Vesoul, picking up the N19/E54 to Langres, and then the A5/E17 to the E54 towards Troyes. From there it was an 80 mile run up the A26 all the way to Reims getting off at junction 13 to pick up the N2 for another 55 miles through to Vervins. This is where we'd leave the motorway network and from here all that remained was a straightforward 5 mile run into Etreaupont.
It sounds easy when it's put like that but right from the get-go it was a race to Le Clos du Montvinage, our hotel for tonight. With no prior discussion alliances were quickly formed and without consciously thinking about it we naturally split into pairs based on the bikes we were riding. Phil and Chris were both on BMWs. Gaz and Pete were on high-speed, long-range tourers. While Taj and Kyle were both on sports orientated bikes.
The result was a surprise – to some. Gaz and Pete managed to get the jump on everyone and took the early lead, but after only 40 miles they were caught and passed by Taj and Kyle, who didn't look back again until they reached Etreaupont. Gaz and Pete rocked up a full 60 minutes later protesting that the only thing that had slowed their progress was a stop for lunch, and that it wasn't a race anyway.
In the meantime Cat, looking smug, and who'd left sometime after everyone else, made his appearance. But the question remained, what had happened to the pair of BMWs? Another hour passed before Phil and Chris finally arrived. Chris's Boxer Cup had developed an electrical fault – possibly water related – just after leaving Belfort and it had taken the best part of an hour – and some toing and froing to a local garage – for the problem to be sorted.
---
Etreaupont to Bewdley
The drill today was exactly the same as it had been a couple of years ago when we last stayed in Etreaupont. It would begin with a 40 mile cross country dash to Cambrai followed by a 90 mile run up the A26 all the way to Calais. We'd then catch a cross-Channel ferry to Dover. And from there it's a 220 mile charge up the M20/A20, M25 and M40 to Bewdley.
But this morning, possibly triggered by yesterday's race that wasn't a race, or even, for some with a point to prove, it turned into a bizarre every man for himself race to catch an earlier ferry. We may have all started together but one by one riders – and driver – became detached. Either getting caught at traffic lights, having to stop for fuel, or getting lost in the most ridiculous diversion ever around Cambrai. In the end it was Phil who was victorious – and the only one to make that early crossing.
---
Cat's Tuono aside, this was another great tour, this time seeing us cover almost 1,800 miles. A little down on previous years but only because we caught the train down to Nice. And as for letting the train take the strain? It's not the most luxurious of train services, and more expensive than riding down, but it was a good call and something we'd recommend.
Next year we're thinking of heading to Italy and touring the Dolomites, this time having the bikes transported there in advance and flying out to meet them.