Location:
D909 Flumet to La Clusaz (12 miles)
Coordinates: 45.8713867,6.4669618
Ridden: 2018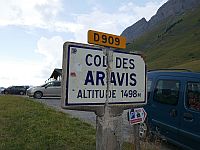 The Col des Aravis is situated on the south-eastern corner of the Aravis mountain range and links the towns of Flumet to the south-east with La Clusaz to the north-west.
From Flumet the climb starts in the village itself and is initially quite steep but flattens out through the forest before starting in earnest at La Giettaz. From this point on the road winds up between farms, chalets and orchards, with frequent hairpin bends. The last mile is particularly impressive as the road zig zags up and over the lip of the pass before finally flattening out towards the summit.
The first part of the climb from La Clusaz is shared with the Col de la Croix Fry and begins at the roundabout at the upper end of the village. The road rises steadily and after a couple of miles forks right to the Croix Fry, leaving the main road to continue to the Aravis. The upper section is in the Alpine pastures and offers fantastic views back down the valley. In all a nice wide, well surfaced and pretty pass worth riding if you're in the area.
Routes & Posts:
Le Grand-Bornand via Valenciennes and Besancon
On to Briancon over the Glandon and the Galibier