Location:

Route 2 Andermatt to Airolo (16 miles)

Coordinates: 46.5590335,8.5617651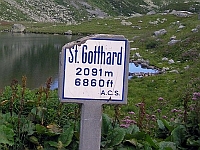 The St. Gotthard – Passo del San Gottardo in Italian – connects the cantons of Ticino – where they speak Italian – and Uri – where they speak German. It used to be one of the main road links between Switzerland and Italy. Now the bulk of the road traffic takes the 10 mile tunnel which starts at Goschenen just north of Andermatt and ends at Airolo at the base of the Gotthard on the Italian side.
There are two pass roads. On the northern ramp most of the old pass road has been incorporated into the new while on the southern ramp the old pass – the Via Tremola – remains in place starting just by the old hospice – now the Museo Nazionale del San Gottardo. Since this road is cobbled it's not recommended for bikes in the wet; however, the new road is a different matter since it's modern, well engineered – some of the hairpins are built on stilts – and fast. You can see the old pass road very clearly across the valley from the new road.
Along with the Oberalp Pass and the Lukmanier Pass it can easily be incorporated into a convenient 97 mile loop that starts and finishes in Andermatt.
Routes & Posts:
Two days in the Swiss Alps and a night in Andermatt
To Andermatt and the Saint-Gotthard Massif