Location:

Route 28 Davos to Susch (17 miles)

Coordinates: 46.7503,9.94744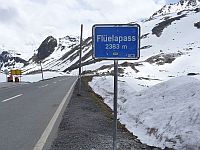 The Fluela Pass is a high mountain pass in the lower Engadin valley in the Swiss Alps. This quiet road connects Davos and Susch and if you catch a dry day it's a really nice pass to ride. Starting from the north end at Davos, the initial rise up is through a beautiful alpine forest, with a nice collection of wide sweeping bends running into one another. As you rise further up the pass, and burst through the forest and above the tree line the pass starts to tighten, however it never becomes extreme so allows you to keep the rhythm going all the way to the top. Heading back down towards Susch is a little steeper, and there are a few more twisty sections as you come out of the main valley and back into the wooded area. The pass has an immaculate road surface, and you can usually enjoy it end to end almost uninterrupted. Since the Vereina Tunnel opened in 1999, the road is no longer guaranteed to be open all year.