Location:

107 Winklern to Bruck (43 miles)

Coordinates: 47.0811845,12.8426481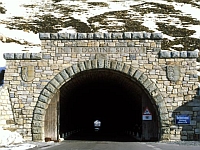 For around €20 you too can take your bike over the Grossglockner for this is indeed a toll road! Opened in 1935 the 6 metre wide road was initially the only transalpine road between the Brenner Pass and Kattschberg – a 100 mile range. The road climbs gently from Winklern at the southern end – a very fast and open road – until it reaches Heiligenblut. Above Heilgenblut it's a proper pass road. At the toll booth you can see the pass high above you and it's a great sight. There are few tight bends and you can maintain a good pace – a great biking road. As you ascend above the toll booth you reach a roundabout. Don't make the mistake of following the Grossglockner sign to the left. This takes you to the visitor centre from which you can admire the Grossglockner mountain, 3,798m, and the Pasterze glacier – still a nice view. So for the pass road take the first exit to the right and when you reach the tunnel you're there. It's open between the months of May and October and the hours of 6am and 9pm – times vary so check actual Grossglockner opening times before going.