Location:

N260 Adrall to Sort (28 miles)

Coordinates: 42.3702166,1.2372221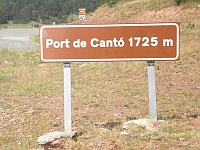 The Port de Canto sits on the N260 halfway between Adrall, south of Andorra, and Sort to the west. While not particularly noticeable as a pass it deserves a mention because it is one of the finest biking roads you will ever have the pleasure to ride. There are no hairpin bends, or noticeable summit, but nevertheless it's a five star must ride biking road.
Routes & Posts:
Urdos to Saint-Lary and a ride out to Andorra
As near as damn it to Carcassonne