Location:

SS52 Padola to Sesto/Sexten (12 miles)
Coordinates: 46.655995,12.4199561
Ridden: 2012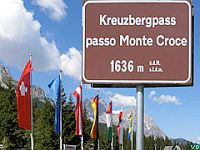 This pass is situated on a fairly major arterial route so it's wide and well surfaced. You leave Padola and the road just climbs gradually up and then gradually down into Sesto – also referred to as Sexten. If it weren't for the pass sign at the top you probably wouldn't think you had climbed a pass. In summary, pleasant but slightly forgettable.