Location:
D618 Bagneres-de-Luchon to Arreau (20 miles)
Coordinates: 42.8023054,0.4634733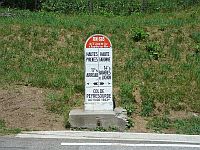 The D618 links Bagneres-de-Luchon to the east with Arreau to the west and crosses this col. It's a favourite with recreational cyclists and professionals alike and made its Tour de France debut during the 1910 race, featuring more than fifty times since then.
The road is well surfaced on both sides and it's a nice pass to ride. At the top there's a creperie where you can buy a dozen crepes for €6.
Routes & Posts:
Return to Santander and the ferry back home
Port de Bales and lunch in Saint-Lary
As near as damn it to Carcassonne