Location:
D902 Bourg-Saint-Maurice to Bonneval-sur-Arc (39 miles)

Coordinates: 45.4172013,7.030685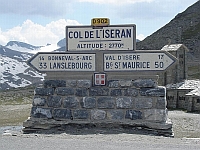 At 2,770m this is the highest pass in the Alps although the Cime de la Bonette at 2,802m is the highest paved road. It forms part of the French Graian Alps, near the border with Italy, and is also part of the Route des Grandes Alpes.
Col de l'Iseran connects the valley of the Isere and the valley of the Arc River between Val-d'Isere in the north and Bonneval-sur-Arc in the south. It's only accessible by road during the summer months and in the winter it falls within the Espace Killy ski area which includes the popular ski resorts of Tignes and Val d'Isere.
Starting from Bourg-Saint-Maurice, passing through Val d'Isere, the pass road on the north side is well built with a number of galleries and tunnels. With some sections up to 12% the northern ramp goes up and down and through tunnels past the lake of Tignes for a distance of 31 miles before reaching the top. A spectacular road.
The southern ramp from the top of the pass down to Bonneval-sur-Arc is 8 miles long with several sections in excess of 10%. It's equally spectacular as the northern side although not as well surfaced.