Location:

D1090/SS26 Bourg-Saint-Maurice to Courmayeur (35 miles)

Coordinates: 45.6804064,6.8838578
Ridden: 2006, 2010, 2013, 2014 & 2018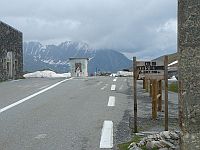 The Petit St. Bernard – or Colle del Piccolo San Bernardo in Italian – links Bourg-Saint-Maurice in France with Pre-Saint-Didier in Italy, near Courmayeur where the Mont Blanc tunnel takes you through to Chamonix in France. It's believed that this is the route used by Hannibal, the Carthaginian general, to invade Italy at the start of the Second Punic War in 218 BC.
At the top of the pass is a 2 mile long plateau where, from the northern ramp, you cross the Italian-French border passing various cafes and restaurants until finally reaching the monument to St. Bernard of Menthon. There's also some WWII fortifications that can still be seen and a 72 metre in diameter stone circle attributed – through coin finds – to the Iron Age.
A nice place to stop for a coffee or bite to eat.
Routes & Posts:
A ride out to the highest pass in the Alps
The Alps look wet; lets go anyway
Le Grand-Bornand via Valenciennes and Besancon