Location:

SS300 Bormio to Ponte di Legno (26 miles)

Coordinates: 46.3438169,10.4844114
Ridden: 2009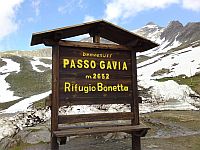 Another top 10 Alpine pass and another must do ride, if only for the scenery. Our suggestion would be to ride it from the north – Bormio – to the south – Ponte di Legno, as the southern ramp is mostly single track, steep and with tighter hairpins. From Bormio you wind through some villages until when you exit Valfurva you have a flowing fast 5 mile run to Santa Caterina where the pass really starts. Leaving the village the road surface deteriorates and you climb through a series of hairpins until you reach a point where the road opens up and you have great views to the left over Pizzo Tresero – 3,594m. A further tighter section over a stream takes you to the final level with views to the Corno dei Tre Signori, 3,359m, to your left. Passing by a lake you reach the summit and a pleasant refugio with lots of photos of Giro d'Italia stages ridden in the snow, especially the famous stage of 5th June 1988 which took place during a snow storm. Descending, the road is initially open but as you hit the tree line it narrows and the hairpins tighten up.