Location:

SS620 Cavalese to Ponta Nova (14 miles)

Coordinates: 46.3545024,11.49271
Ridden: 2009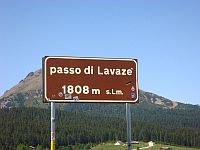 This was the 13th pass in our 18 passes in a day ride – preceded by Passo di Pramadiccio and followed by Passo di Costalunga. This is a pass road which flowed nicely both up and down. Open at the top, most of the descent to Ponta Nova was spent riding through the forest either side of the road.