Location:
D2205/D64 Saint-Sauveur-sur-Tinee to Jausiers (48 miles)

Coordinates: 44.336287,6.809566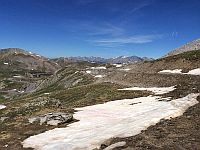 The passage over Col de la Bonette is often mistaken for this col. It's very easy to miss it because the actual pass is situated on a gravel track leading off the D64 close to its summit. There's no signpost to mark the top although there are various ancient blockhouses that litter the area, remnants of the Alpine Line, an extension of the Maginot Line that is sometimes referred to as the Little Maginot Line.
The Ouvrage Col de Restefond, one of many ouvrages along the Alpine Line, consisted of three infantry blocks, all facing Italy. Construction work was completed in 1934, but the ouvrage was not armed until 1938. By the time Italy declared war on France in 1940 it was fully operational.
From the Cime de la Bonette turn off at the top, past the ouvrage and all the way to the Jausiers junction at the bottom, it's a glorious 14 miles down this pass. Not to be missed.
Routes & Posts: