Location:

SS242 Selva di Val Gardena to Canazei (13 miles)

Coordinates: 46.5081696,11.7580483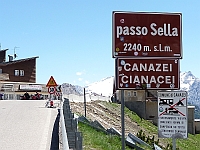 This was the 17th pass in our 18 passes in a day ride – preceded by Passo di Pordoi and followed by Passo di Gardena. The Sella pass connects the Val Gardena in the Bolzano province with the Val di Fasso in the Trentino province – the Gardena and Pordoi run off it. Together with the Passo di Campolongo running between Arabba and Corvara these four passes form a quadrangle surrounding the Sella massif. From both sides the Sella is fairly open with only a few tight places and it is reasonably well surfaced so you can get a good flow going. Our very first pass in the Dolomites, crossed on the way to Arabba.