Location:
D918 Arreau to Campan (20 miles)

Coordinates: 42.9422716,0.327834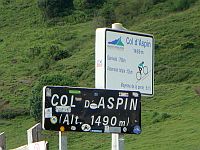 Just north from Arreau, at the end of the Col de Peyresourde, you take the left turn onto the D918 which takes you over the Col d'Aspin to Campan, and to the start of the Col du Tourmalet. While not particularly high we recommend this col as it's nice to ride and the scenery is worth it.
The eastern ramp from Arreau is quite tight and there are some blind bends but it opens up towards the summit. The western ramp is equally enjoyable, with both open and tight sections. There's nowhere to stop for a coffee at the top but Arreau is a busy little town – and Campan too but to a lesser degree – with plenty of cafes and restaurants to choose from.
Routes & Posts:
Return to Santander and the ferry back home
It's good to be back in the Pyrenees
Dipping into Spain and some classic Tour de France cols