Location:
D918 Campan to Luz-Saint-Sauveur (26 miles)

Coordinates: 42.9082787,0.1451611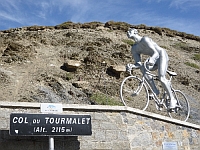 The Tourmalet lies on the D918 linking Campan in the east with Luz-Saint-Sauveur to the west. The western ramp, from Luz-Saint-Sauveur, is 15 miles long and climbs more than 1,400m, while the eastern ramp from Campan is 11 miles long gaining almost 1,300m.
In terms of cycling the climb is graded HC, or hors categorie – beyond categorisation. The grading system was based on which gear a car needed to use in order to get to the top. A category 1 climb required the driver to get down to 1st gear, a category 2 climb could be climbed in 2nd gear, and so on. The term HC was originally used for roads that were so steep cars of that era – pre WWII – couldn't get up at all.
The Tourmalet has been climbed more times than any other col in the history of the Tour de France and has also featured in the Vuelta d'Espana. There is a statue at the top to Octave Lapize who was the first rider over the pass in 1910, and a memorial to Jacques Goddet, the director of the Tour from 1936 to 1987. From a biker's viewpoint it's a great road to ride but care needs to be taken on the final stretch up from Luz-Saint-Sauveur as this is very tight with some bits of poor road surface.
There are some good views from the top and a nice cafe with decent food. You can also make friends with the Vicunas that roam around near the cafe.
Routes & Posts:
Return to Santander and the ferry back home
Dipping into Spain and some classic Tour de France cols