Location:

Route 3 Silvaplana to Tiefencastel (21 miles)

Coordinates: 46.4703709,9.7182025
Ridden: 2009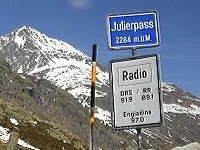 Coming west from St. Moritz you come to Silvaplana and turn right towards Tiefencastel. This is a main highway and as such the road is wide with few tight bends – even the hairpins are broad and sweeping. On reaching the summit 470m higher than the start point the road tightens up a bit in three sections before reaching the village of Mulegns. The road down is very scenic running past Lago da Marmorela. From Mulegns the road gradually descends to Tiefencastel at 851m, where you can turn right towards the Albula Pass.