Location:

SS641 Canazei to Rocca Pietore (15 miles)

Coordinates: 46.4536922,11.8886567
Ridden: 2009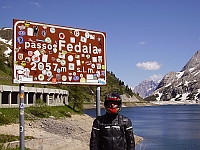 This was the 15th pass in our 18 passes in a day ride – preceded by Passo di Costalunga and followed by Passo di Pordoi. From Canazei a fast flowing road with just about 5 open hairpins takes you up to the top of the Fedaia. After skirting the lake the road drops down the valley in similar style to Rocca Pietore. At the top to your right is the Marmolada group containing the highest mountain in the Dolomites, and one of the many museums dealing with the WWI conflict between Italy and Austria.