Location:
D918 Laruns to Argeles-Gazost (29 miles)
Coordinates: 42.9766485,-0.3396194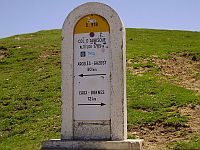 The Col d'Aubisque is the second most visited pass in Tour de France history – after the Col du Tourmalet – and joins Laruns – also the start point for the Col du Pourtalet – with Argeles-Gazost via the D918.
When crossing the Aubisque the Col du Soulor is also crossed and whilst it rightly finds fame in cycling circles this is not a pass we'd recommend. The road surface was dreadful, very narrow and deformed, and in our opinion best left to the cyclists.
Routes & Posts:
Return to Santander and the ferry back home
Dipping into Spain and some classic Tour de France cols