Location:
D41 Annecy to Leschaux (19 miles)
Coordinates: 45.797666,6.1071544
Ridden: 2018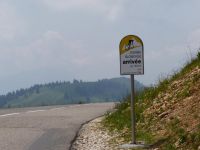 There are a number of ways up Semnoz but our preferred route began from the centre of Annecy on the D41 Route des Semnoz. Traffic isn't too heavy but be warned there are a lot of cyclists.
Apart from a series of hairpins at the start of the climb it's pretty much a straight run up and you climb 1,200m in 11 miles which tells you there are some steep sections in there. For most of the way you are in the trees until a mile or so before you reach the top. From this point the view down to Annecy and the lake begins to open up and it's quite stunning. This is the place to stop and take photos because when you get to the hotel just before the summit there's no real view to speak of. From the hotel it's only a short distance to the ski area at the very top.
The run down the other side to Leschaux has the potential to be good but unfortunately when we rode it the road surface was appalling. Huge craters littered the road for most of the way although it did improve the closer we came to Leschaux.
Routes & Posts: