Location:

Route 17 Altdorf to Linthal (26 miles)

Coordinates: 46.868242,8.855391
Ridden: 2010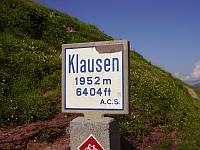 From Altdorf you ride through the village of Burglen and the pass starts properly. The early sections are straightforward and flowing but before you drop into the village of Ulrichen you can look upwards and see the pass road climbing above you. You ride through the village and the pass kicks up. Still well surfaced and not too difficult you climb into more open territory with a very large drop to your right into the valley. If you suffer from vertigo we suggest you ride down this side, not up, as at least then you keep near the cliff face and away from the drop. You then have a straightforward stretch up to the pass summit. The climb up is 15 miles at an average of 6.1%. Descending towards Linthal the road is quite a bit tighter than the ascent but again nothing too taxing. After a while the road opens up with a nice run down the valley, before you get to the final descent into Linthal. The only thing to worry about on the descent is, if it's wet, three of the hairpins are still cobbled, and they are not too grippy. The ascent from Linthal is 11 miles at an average 5.7%. This pass is nice whichever way you ride it. Our recommendation would be to ride it from Altdorf to Linthal, and then turn round and ride it the other way. Unless you have to approach from Glarus, don't – the road is busy and congested and best avoided.