Location:
D902 Briancon to Guillestre (32 miles)

Coordinates: 44.819732,6.734978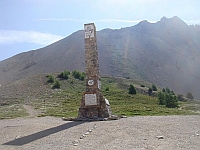 The D902 connects Briancon, to the north, with Guillestre, to the south. The ride up from Briancon starts immediately you leave the city and it's 12 miles to the monument at the top. The first half of the climb, up to Cervieres, is a relatively straight run, but from this point onwards the road begins to twist and turn and becomes a lot of fun all the way to the summit.
It's always busy at the summit which is understandable because the views are stunning, and as well as a monument to the road builders there's also a small cycling museum at the top.
The run down the southern ramp to Guillestre begins like the run up from Briancon ends, twisting and turning, hairpin after hairpin. First past Casse Deserte where there's a memorial to Fausto Coppi and Louison Bobet, and the barely noticeable Col de la Platriere, and then down to Arvieux. From there it's another relatively straight run all the way down to the D947 junction, which for all intents and purposes, marks the bottom of the pass.
Turn right at the junction and you continue down the D902 to Guillestre and the Col de Vars. Turn left and you pick up the D947 to Chateau-Queyras and from there the D5 to the Col Agnel as we have done in the past. Highly recommended.
Routes & Posts:
Two days in the high Alps
We really should have cut and run at Barcelonnette