Location:
D44/D85/D618 Saint-Beat to Saint-Lary (19 miles)
Coordinates: 42.9448855,0.8540644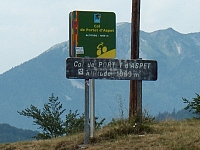 This col on the D618 is another nice one albeit not particularly high. It's not particularly steep either although you do need to take care with the descent on the western side where there are some steep, tight sections with a big drop on the right hand side.
During stage 15 of the 1995 Tour de France the Italian rider and Olympic gold medalist Fabio Casartelli crashed and died while descending the Portet d'Aspet. The Societe du Tour de France and his Motorola team placed a memorial near where he crashed, a sundial arranged such that the sun's shadow highlights three dates – his birth, his death and the day he won his Olympic gold medal. The great Raymond Poulidor almost suffered the same fate during the 1973 Tour when he crashed and plunged into a ravine.
Routes & Posts:
Urdos to Saint-Lary and a ride out to Andorra
Port de Bales and lunch in Saint-Lary