Location:

Route 6 Oberwald to Innertkirchen (24 miles)

Coordinates: 46.5619606,8.3384383
Ridden: 2009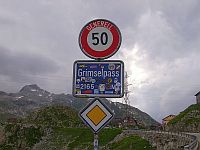 The road towards Andermatt becomes the Furkastrasse. At Oberwald the road kicks up towards Gletsch. It's debatable whether Oberwald or Gletsch is the start of the Grimsel – or for that matter the Furka Pass. Initially it winds its way up close to the old cog railway. Before Gletsch you turn a corner and you can see the Grimsel zigzagging its way up the mountain in front of you. As you come into Gletsch you can see the Furka in front of you. The hotel three quarters of the way up is next to the Rhone Glacier – the start of the River Rhone. A few miles away on the other side of Andermatt is the source of the River Rhine and at the top of the Grimsel is the source of the River Aar. Into Gletsch anyway you choose, turn left, and you are on the Grimsel. Keep straight on and you are on the Furka. The Grimsel is a very well engineered road. The hairpins have all been widened so you can maintain a good pace all the way up. At the summit there's a pretty lake. Go past the lake and you can turn left onto a private road, which takes you to the reservoir and glacier, which is the source of the Aar. You can't miss the road – it's controlled by traffic lights as it's single track all the way. It's open twice every hour for 10 minutes in each direction. Coming back along this road gives you great views over the upper sections of the northern ramp down towards Innertkirchen. The ascent from Oberwald is 7.5 miles at an average 6.6%. The ascent from Innertkirchen is 16.5 miles at an average 5.9%.