Location:

N20/N22/CG-2 Ax-les-Thermes to Andorra la Vella (35 miles)
Coordinates: 42.540531,1.7190392
Ridden: 2007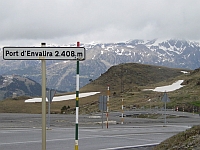 The Port d'Envalira is the highest paved road in the Pyrenees and has featured several times at the Tour de France and Vuelta a Espana cycle races. The N22 takes you from France, into Andorra, and over this col where the road becomes the CG-2.
Fast with wide sweeping bends, the road is reasonably good for bikers but let down by the volume of traffic probably trying to smuggle untaxed income out of their Andorran bank accounts.
There are hardly any Andorran border guards however, on both the French and Spanish borders, the border guards are rigorous in their examination of their own citizens cars returning from Andorra
Routes & Posts: