Location:

SP Della Val di Zoldo Selva di Cadore to Dont (13 miles)
Coordinates: 46.4204909,12.1037065
Ridden: 2009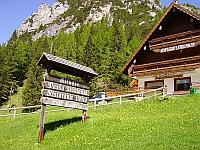 This was the 5th pass in our 18 passes in a day ride – preceded by Passo di Giau and followed by Passo Duran. It's a nice fast open road that takes you south from Selva to the bottom of the Duran at Dont. The road climbs gradually and you might not notice the pass were it not for a refugio on the right.