Location:
D902/D1091 Saint-Michel-de-Maurienne to Briancon (45 miles)

Coordinates: 45.0640687,6.4076881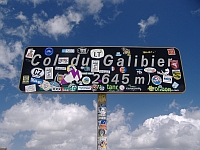 This famous col connects Saint-Michel-de-Maurienne with Briancon via the Col du Telegraphe, the ski resort of Valloire-Galibier, and the Col du Lautaret. Before 1976 the only point of passage at the top was a tunnel which was built in 1890. It opened a year later and was in use for the next 85 years until it was forced to close due to its poor condition.
The tunnel remained closed until 2002 and during the intervening years a road was built over the summit which provides quite possibly one of the most stunning panoramic views in the entire French Alps. When the tunnel finally re-opened it was as a single lane road controlled by traffic lights – possibly the highest set in Europe.
From Briancon the climb begins in earnest at the Col du Lautaret junction, at an altitude of 2,058m. In a little over 5 miles it gains almost 600m before it finally crosses the road over the top. From Saint-Michel-de-Maurienne, and including the Col du Telegraphe, the climb is 22 miles long and gains almost 2,000m. However, the climb doesn't actually begin until you reach Valloire where the climb is 11 miles long gaining more than 1,200m.
Whether you ride the Galibier from the south or from the north it's simply a not to be missed pass.
Routes & Posts:
Two days in the high Alps
On to Briancon over the Glandon and the Galibier