Location:
D2/D78 Colmars to Saint-Martin-d'Entraunes (17 miles)
Coordinates: 44.175194,6.6977873
Ridden: 2008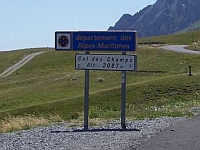 The attraction of this col is that it enables you to ride a loop from Barcelonnette which takes in Col d'Allos and Col de la Cayolle. The downside is that the western ramp from Colmars is just about one of the worst bits of road we have ever ridden. It's virtually all single track, with an appalling road surface and some hairpins which define what a tight hairpin is.
The eastern ramp takes you down, or up as the case may be, to/from Saint-Martin-d'Entraunes with a largely new road surface and is an altogether much nicer riding experience.
Routes & Posts: