Location:
D211 Le Bourg-d'Oisans to Alpe d'Huez (10 miles)
Coordinates: 45.0909094,6.0625801
Ridden: 2018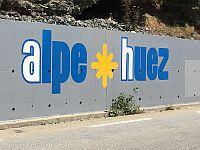 Alpe d'Huez isn't really a pass, it's more of an access road to the ski resort at the top. It's only 8 miles to the top but during that distance there are 21 hairpins to negotiate and the views all the way up to the ski resort are spectacular.
It's a popular climb with cyclists and since 1976 has featured regularly in the Tour de France, including twice on the same day in 2013. All 21 hairpin bends are named after stage winners and with all of them being named by 1999, naming was restarted from the bottom in 2001 when Lance Armstrong's name was added to Fausto Coppi's. The record for the fastest ascent of the climb is 37′ 30″, set during the 2010 Criterium du Dauphine, and is held by the Spanish rider Alberto Contador.
Alpe d'Huez is well worth taking the time to ride if you're in the area and if you don't fancy retracing your steps back down the mountain you can always carry on over the Col de Sarenne like the Tour de France did in 2013. Be warned though, the road over the Sarenne is an unnamed road for a reason. After dropping down the other side, through the villages of Mizoen and Le Freney-d'Oisans, you can pick up the D1091 and return to Le Bourg-d'Oisans to make an interesting 30 mile loop.
Routes & Posts: