Location:
D294 Escot to Bielle (13 miles)
Coordinates: 43.0705151,-0.5075508
Ridden: 2007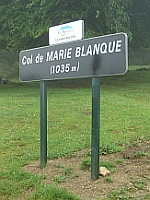 This col links the two roads that lead to Col du Somport and Col du Pourtalet. Situated on the D294 between Escot and Bielle, the road is more suited to the cycling fraternity than the motorcycling fraternity. It made its Tour de France debut in 1978 and since then has made more than a dozen appearances. It's tight, twisty and steep, with stretches of poor road surface. It's a bit like the curate's egg – good in parts – but its main attraction is that you can get from the Somport to the Pourtalet or vice versa in the shortest possible time.
Routes & Posts: