Location:

Via Lucmagn Disentis to Biasca (38 miles)
Coordinates: 46.5625876,8.8009145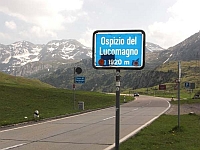 The Lukmanier links Disentis in the canton of Graubunden with Biasca in Ticino. The 38 mile route both climbs and descends fairly gradually. The scenery is good but the road surface was poor both times we rode it. There are some places where you can see the original pass road clinging to the side of the mountain, and wonder how on earth they built it.
Along with the Oberalp Pass and the St. Gotthard Pass it can easily be incorporated into a convenient 97 mile loop that starts and finishes in Andermatt.
Routes & Posts:
Two days in the Swiss Alps and a night in Andermatt
To Andermatt and the Saint-Gotthard Massif