Location:
D927/D926/D526 La Chambre to Le Bourg-d'Oisans (38 miles)

Coordinates: 45.2393601,6.1756565
Ridden: 2018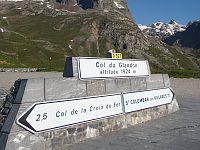 The Glandon lies at the end of the D927 a couple of hundred metres before the D926 junction. It connects La Chambre to the north with Le Bourg-d'Oisans to the south and while the road surface on the northern ramp isn't the best, the 15 mile run up from La Chambre to the summit is a nice ride.
The first half of the pass is mainly tree lined, interspersed by the odd small village, and steadily works its way up through forest before eventually opening up. Once above the tree line the scenery changes dramatically and as the summit approaches the gradient really starts to kick up. At the top the scenery is quite stunning and includes an impressive view over the Col de la Madeleine with Mont Blanc serving as a backdrop.
Spectacular view aside – and it is spectacular – there's not a great deal else at the top of the Glandon so if you're thinking about a coffee stop, Saint-Colomban-des-Villards halfway up is a good place to take a break. After cresting the summit it's only a short ride down the D926 junction. Turn right for Le Bourg-d'Oisans and a very nice 14 mile run down the southern ramp to Lac du Verney, an artificial reservoir that marks the bottom of the pass. Epic.
Alternatively you can turn left at the D926 junction and follow the road for the short run up to the Col de la Croix de Fer, and from here you can either retrace your steps back down again towards Le Bourg-d'Oisans, or carry on for another 18 miles to Saint-Jean-de-Maurienne.
Routes & Posts: