Location:

S28 Zernez to Santa Maria im Mustair (22 miles)

Coordinates: 46.648272,10.266932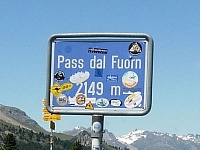 The Ofen Pass connects Zernez in the Engadin valley with Santa Maria im Mustair in the Mustair Valley. It runs past the tunnel into Livigno after 7.5 miles from Zernez. Santa Maria sits at the base of the Umbrail Pass. From Zernez a wide and reasonably well surfaced road climbs and then drops down to the Livigno tunnel and then starts to climb the pass. At the top there is a café where you can enjoy the views and also the statue of a Brown Bear – put up to commemorate the first sighting – in July 2005 – of such a bear in Switzerland since 1923. The pass is best climbed from the Santa Maria end where a well surfaced road with a series of beautiful sweeping bends winds through the villages of Valchava, Fuldera and Tschierv – at 1,660m – before the final ascent. A fantastic pass to ride and one of our favourites.