Location:

C28 Vielha to Esterri d'Aneu (26 miles)
Coordinates: 42.663605,0.9814719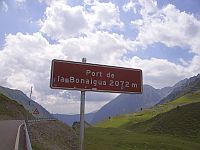 The C28 links Vielha to the west with Esterri d'Aneu to the east and crosses this pass – Puerto in Spanish, Port in French. The eastern ramp is quite tight and was being extensively resurfaced and widened when we were there in 2007. Now the works have been completed it's a very nice biking road.
The western ramp to/from Vielha had a very deformed road surface, possibly due to the volume of heavy vehicles used in the construction of the ski resorts such as Pla de Beret. All the traffic taking skiers to and from the resorts probably doesn't help either. Stop off for a coffee at the hostal at the top, enjoy the scenery, but don't cross it expecting a sublime biking experience.
Routes & Posts:
Urdos to Saint-Lary and a ride out to Andorra
As near as damn it to Carcassonne