Location:

D933/N135 Saint-Jean-Pied-de-Port to Pamplona (47 miles)
Coordinates: 43.020556,-1.324722
Ridden: 2007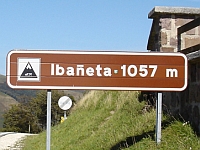 The Ibaneta is located in southwestern France near to Saint-Jean-Pied-de-Port, the customary starting point of the Camino de Santiago pilgrimage route – known in English as the Way of Saint James.
Lying between the towns of Luzaide/Valcarlos and Roncesvalles the pass itself is entirely in Spain and goes by several other names including the Roncesvalles Pass and the Roncevaux Pass.
Via the D933/N135 it serves as a link between Saint-Jean in France and Pamplona in Spain and the 47 miles between these two points is a really good biking road. Particularly the middle 30 mile section between Arneguy on the French-Spanish border and Zubiri in Spain.
Routes & Posts: