2008 Part 1:
Bewdley to Calais & Motorail to Nice
Over a few pre-tour beers last night it was agreed we needed an early start this morning. We settled on a 7am meet at Kyle's house. We had a midday ferry crossing booked and it's 220 miles and an easy 4 hours from Bewdley down to the docks. The weather this morning was glorious, all blue skies and the sun was already out. For those that arrived on time there was a cup of tea and sausage sandwich waiting courtesy of Kyle's partner Kay. And for those arriving late they had to wait until Dover for their breakfast.
Arriving pretty much together we all fuelled up just outside the ferry terminal and then checked in for our P&O crossing to Calais. The ferry got us into Calais just after 3pm and as soon as we'd disembarked we rode straight round to the Motorrail terminal located next to the main train station. Once you're in, you're in, and the only way out is on foot. So you need to stock up on whatever food and drink you want for journey before you arrive. At the terminal you can buy a picnic and wine to take on board the train, and you can buy wine by the half bottle on the train. But the train has no restaurant car, only a buffet car where the service is limited.
The train only runs during the summer months and by the look of it, it clearly hasn't had much invested in it for a few years. Compared with the Santander ferry that we took down to Spain last year it rates poorly in both cost – £265 one way per bike against £240 return on the ferry – and amenities. On the ferry you have the full run of bars and restaurants and there's even a cinema. Having said that it does cut out about 900 miles of riding, of which 500-600 miles is quite tedious. We reckoned that petrol, an overnight stop in a hotel, plus peage charges would have cost about £200 so the net cost was about £60-£70. And we avoided squaring off our tyres and some wear and tear.
Getting the bikes loaded onto the train took a bit of time and actually it's securing them that takes the time. We should really have taken some photos at this point but to be honest we were more concerned that everything was secure and the bikes were still going to be there when we got to the other end.
At 6.05pm the train duly departed and a 16 hour journey lay in front of us. We would be arriving in Nice at 9.58am tomorrow morning but what to do in all that time? The journey started off quietly enough in the buffet car, eating our picnic and discussing tomorrow's ride to Briancon over a few beers. We then decamped to Gaz and Pete's couchette where the wine started to flow – and needless to say it all went downhill from there.
---
Nice to Briancon
Despite having a late one last night we woke up early this morning and we're glad we did. As the train slowly made its way into Nice for the final hour of the journey we were treated to some truly beautiful views of the coastline. As we began to get that sun, sea and sand feeling, we instinctively knew that we'd arrived on the Cote d'Azur. At 10.00am the train pulled into Nice as scheduled and it was hot, seriously hot – well over 30°C in the shade. Then the bombshell when we were told that our bikes wouldn't be unloaded until 11.30am.
Uncomfortable doesn't come close to describing how we felt over the course of the next 90 minutes as we sat there in leathers being slowly poached. Our mood was lightened a little when we bumped into the 5 BMW riders that we'd met back in Calais before boarding the train. They were expecting to be in Avignon this morning but like us they'd tied one on last night. Unfortunately for them though they'd missed their early hours alarm call to get off the train. The result was they were now in Nice while their bikes were 160 miles away in Avignon.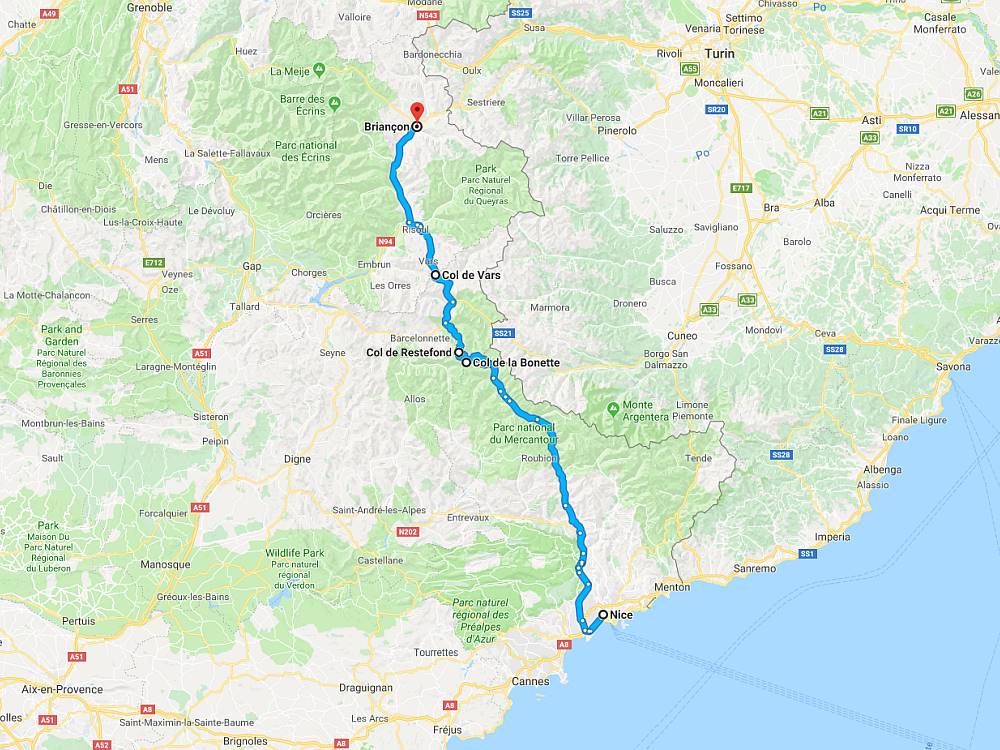 After what felt like an eternity the bikes were finally unloaded and by 12.15pm we were on the road and rolling, and 15 minutes after that Nice was behind us and we were heading up the D6202 Route de Grenoble towards Digne-les-Bains. Another 20 fairly rapid minutes later and we left the D6202 and picked up the D2205 Route de la Tinee – the road that would take us all the way to the Col de la Bonette.
The D6202 takes you high, in fact the scenic loop road that runs around the peak is as high as it gets in Europe topping out at a whopping 2,802m. This stretch of road was a lot of fun to ride, with a decent surface and some good twisties, but as we approached Saint-Sauveur-sur-Tinee, 60 minutes and 40 miles into our ride, the consensus was we should stop for lunch and take on some much needed fluids before chronic dehydration caused irreversible kidney failure.
From Saint-Sauveur we headed up to Saint-Etienne-de-Tinee and this 18 mile stretch was quite modern with fast sweeping bends. Nice for a car or a bike. At St. Etienne the pass road up to the Bonette began in earnest and our gradual climb up the southern ramp started. As you'd expect the scenery here is outstanding and from this point there are few passing places and we were pleased to be on bikes where we could get past virtually everything given half a chance. Eventually we got above the tree line and were rewarded with the panoramic views that we'd looking forward to.
At the top of the southern ramp we turned left and headed up to the Cime de la Bonette – a 2km long teardrop shaped scenic loop road that runs around the peak. The road was shut at the bottom for resurfacing so we had to go up anticlockwise and then return the same way. While to the view from the top is spectacular the road is completely pointless and we could only imagine that the only reason it was built was so it could lay claim to the title of the highest paved road in Europe – at 2,802m it's 32m higher than Col de l'Iseran.
After a few obligatory photos at the top of the pass we started to make our way down the northern ramp, barely noticing the Col de Restefond. The passage over the Restefond is easy to miss because the actual pass is situated on a gravel track leading off the D64 close to its summit. There's no signpost to mark the top but you'll know you're there because of the numerous ancient blockhouses, remnants of the Maginot Line's Alpine extension, the Alpine Line. The Ouvrage Col de Restefond consisted of three infantry blocks, all facing Italy.
The northern ramp from the Restefond down to Jausiers is about 14 miles and has been completely resurfaced. It's a superb road with something to please everyone from moderate straights to long sweepers, twisties and tight hairpins. At Jausiers we turned right towards Guillestre and headed up and over the Col de Vars and from there it was simply a case of joining the N94 for a straightforward 20 mile run into Briancon and Hotel de la Chaussee.
Our hotel for the next few nights was a real find and ticks just about every box. Located in the centre of the lower town it's family run with nice clean rooms and secure parking for bikes, and at €70 a night it's good value for money. Conveniently it's located close to plenty of bars and restaurants and it didn't take us long before we got stuck into them. The restaurant we chose for our first night was alfresco at L'Alpin – very good food and excellent service but a bit pricey.
In fairness we did go a bit overboard with the wine selection and we also took them up on their offer of a Friendship Bowl despite not having a clue what one was. It turns out that it's a hand carved wooden Grole filled with a mixture of wine and espresso with a dash of grappa. It's a traditional Alpine drinking vessel and you pass it from person to person, with everyone drinking from their own spout, until it's finished.