2018 Part 5:
Briancon to Macon
When we awoke this morning there was barely a trace of the storm we'd experienced yesterday. The first thing we did though was head down to the hotel basement to check on our kit. Last night the hotel kindly let us dry our textiles, gloves, and boots in their boiler room. For the most part everything had dried out although our boots were still sodden. While our boots were all waterproof, there had been so much surface water that it had simply washed up our trousers, then run down inside them.
Like most days on this tour there was no great rush to get off today. Conversely on previous tours mornings have always been one mad dash to get on the road. Maybe this year was different because we were only a trio. While having lower numbers certainly helps we suspect it's more than that though, more a combination of things. Such as being a little older and wiser, certainly riding bikes better suited to touring, and overall just being better at touring than we used to be. Spending less time in the bar has played its part too.
We were on the road just after 10am and for a change there was no need for a morning fuel stop. Our first port of call today was Bourg-d'Oisans and by the indirect route we were going to take it was 110 miles away and we all had more than enough fuel to get us there. While there was no fixed route today we had identified a couple of potential passes we could ride but by and large once we reached the area around Grenoble we would be saying goodbye to the mountains and begin hacking our way cross country up to Macon.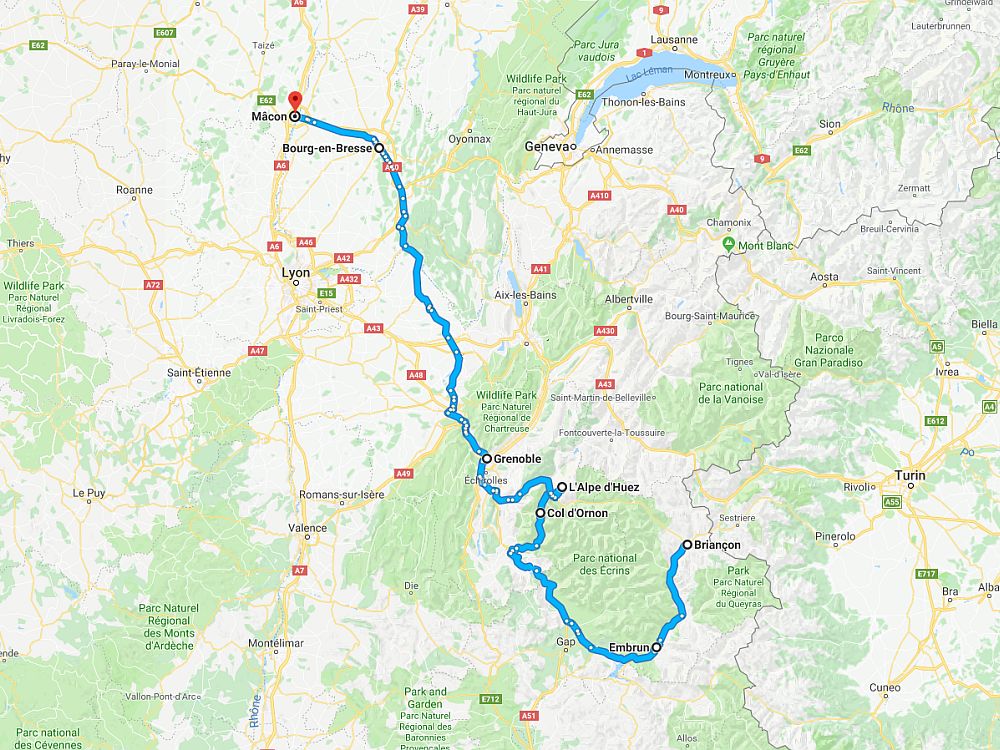 The start of our journey today, the first 35 miles at least, saw us retracing the final steps of yesterday's route back into Briancon by heading south down the N94 to Savines-le-Lac – except this time with the luxury of being able to see where we were going. Being peak holiday season there was a lot of traffic on this opening section, particularly around the lake, but once we'd turned right and crossed over Lac de Serre-Poncon it started to thin out.
Leaving the lake behind we continued west on the N94 past Chorges and on to Gap. As usual the traffic around Gap was quite heavy although we could have avoided most of it by taking a detour over the Col de Manse. Unfortunately we missed our turning which meant us filtering through the town to the very end of the N94 where it meets the N85. At this point our journey west stopped as we turned right and began making our way north-west instead, all the way up to La Salle-en-Beaumont.
Gap aside, the entire 55 mile section we'd ridden from the lake had been great but by now we'd been in the saddle for a couple of hours so it was about the right time, and La Salle-en-Beaumont the right place, to stretch our legs and grab a coffee. A couple of miles on from La Salle and we turned right off the N85 to pick up the D526. This was another enjoyable stretch of road and over the next 25 miles it took us up and over the Col d'Ornon. The run up to the top from Entraigues was nice enough but to be honest it didn't look or feel much like a pass road.
The run down the other side though was a much more impressive affair and far more pass like. After leaving the plateau at the top we came to a series of hairpins that marked the start of descent proper. From this point the road began to narrow and for the next 5 miles dropped us down the Torrent de la Lignarre Valley, through forests and villages, all the way to the outskirts of Le Bourg-d'Oisans where the pass road met the D1091.
At the bottom of the Ornon we turned right into Le Bourg-d'Oisans and after a brief stop for fuel made the snap decision to ride up Alpe d'Huez. This isn't really a pass, it's more of an access road to the ski resort at the top. It is iconic though and the views on the way up are too good to miss. Quite frankly, as we were this close to it, we'd have been mad not to ride it. From a cyclists point of view it's a must ride and Kyle has cycled up it a few times, the last time as recently as a fortnight ago.
At 8 miles it's not a particularly long climb, and while steep there are tougher cycling climbs, but with its 21 hairpins and all the drama that has unfolded on it over the years, it has become synonymous with the Tour de France. To date it has featured in 29 editions of the race, the last being this year when Welshman, and eventual race winner, Geraint Thomas won on it. For us today though it was a quick dash to the top and straight back down again.
When we returned to the bottom we were surprised to see it was 3pm and according to our sat navs we were still 150 miles and 4 hours from our destination. The ride time could be drastically reduced by taking toll roads but we were on a strict no toll tour. So from this point, all the way to Macon, the ride became an every man for himself cross country charge. With each missed overtake, or a failure to filter, it wasn't long before the elastic broke and all 3 of us became detached.
Phil was the first to break free, with Taj cutting Kyle loose a short time after that. And this is how we all arrived in Macon, Kyle rolling in to Hotel de Bourgogne a little after 6.30pm. Despite being a last minute booking the hotel was good value. Located in Place de la Barre it was a good find and ticked all our boxes. Bars for beer, a couple of restaurants to choose from, and a cafe for coffee in the morning. The secure parking was a bonus although it was a bit of a squeeze to fit all 3 bikes inside the one available parking space.
---
Macon to Laon
The following morning we were up and about early and having decided to skip the hotel breakfast we met at the cafe across the road instead. As things stood last night we hadn't got a hotel booked for this evening. Phil had rectified that overnight though and so this morning, armed with the address, we all programmed our sat navs with the new destination. Looking at our proposed fastest routes today was going to be 300 mile no frills south to north cross country ride up to Laon.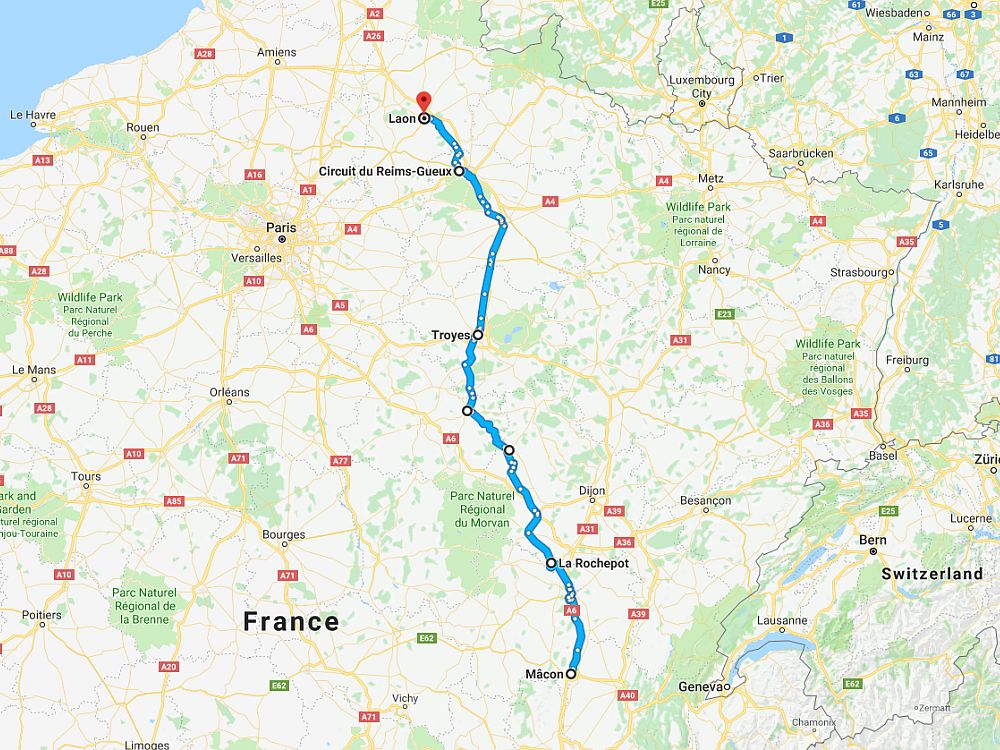 In much the same way that our ride down from Valenciennes to Besancon had been a fairly anonymous affair, our route today could also have been pretty much anywhere. For much of the day we seemed to be riding through nothing but vast expanses of grain fields, interspersed with the odd one horse town. No complaints from us as the roads were good, fast, and very very quiet. It was however a little monotonous.
We did have a couple of interesting interludes that broke the journey up though. Our first unplanned stop was on the old Route Nationale 6, now the D906, near La Rochepot. Between the 50s and 70s the Bel-Air plateau was a favoured rest stop for French holiday makers. Situated 200 miles from Paris it marks the high point between Paris and Lyon and was the ideal place to fill up with petrol and take a break.
Abandoned for 40 years the RN6 has recently experienced a bit of a resurgence with fans and devotees of that Golden Age. It was here we stumbled upon Station du Bel-Air where, at first glance anyway, there appeared to be a classic car show in progress with more than 100 cars from all eras on display. We have subsequently found out that it is in fact a well known rallying point for old car collectors and amateurs.
Our other unplanned stop came at the other end of our journey, at the old Circuit de Reims-Gueux located in Gueux just west of Reims. The circuit was used extensively between 1926-1972 and had a triangular layout. This was comprised of public roads that formed three sectors between the villages of Thillois and Gueux over the La Garenne / Gueux intersection of Route Nationale 31.
The circuit became known to be among the fastest of the era due its two long straights that allowed maximum straight line speed, resulting in many famous slipstream battles. The circuit saw it's heyday in the 50s and 60s hosting both 12 hour endurance races and 14 Formula 1 Grands Prix. In fact it's debut in Formula 1 was during the inaugural World Championship year in 1950. All that remains today is the main grandstand and the pit area.
The remaining 35 miles from Gueux to Laon took us an hour to knock off and we were happy when we finally arrived at Hotel du Tramway. When Phil booked the hotel last night he believed it to be in the old town when in fact it's in the new town by the train station. We didn't mind though because the area was nice enough and the hotel was brand new. And like the one we'd left this morning it met all our requirements including secure parking, plus the bonus of fuel station just around the corner.
---
Laon to Bewdley
Sunday dawned and all that remained of this tour was the tedious ride home where our no toll policy no longer applied. Filling up for the penultimate time we began the last leg of our journey – a 147 mile dash up the A26 to Calais, a midday cross channel ferry to Dover, and finally a 220 mile charge up the M20/A20, M25 and M40 to Bewdley.
---
There's not much more to add except it just goes to show that to do a tour like this, you don't need months and months of forward planning. For the most part this one was organised, booked up, with routes planned in under a week – and as motorcycle tours go this one definitely ranks highly.