2006 Part 2:
Col du Grand St. Bernard
There was no particular plan today and we'd always intended on taking it easy after all the riding we'd done over the weekend. After a late breakfast we gave the bikes a bit of a wash down and checked oil levels and for those that had chains, they were also checked and oiled. By late afternoon though cabin fever had begun to set in. We'd all had enough of sitting around and decided to venture out for a short ride.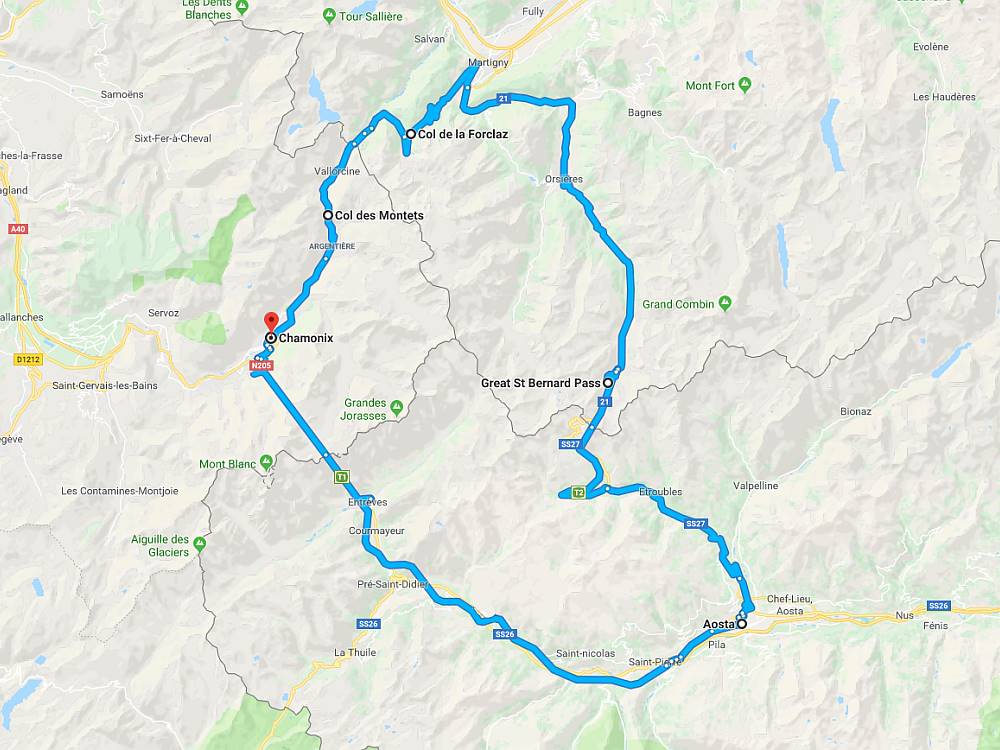 The great thing about Chamonix is that it's conveniently located in the western part of the Alps and borders Switzerland and Italy providing easy access to some stunning Alpine roads and passes.
The plan was to ride up the valley from Chamonix to Martigny, up to the top of the Grand St. Bernard, and then ride down to Aosta on the Italian side, returning to Chamonix through the Mont Blanc tunnel.
We left Chamonix and headed up the valley and over the Col des Montets towards Vallorcine and the French-Swiss border. From there we crossed into Switzerland and headed up and over the Col de la Forclaz and then on into Martigny.
From Martigny the road up the Swiss side of the Col du Grand St. Bernard is very good and fast until you reach the pass road itself where it is very tight in places. The first gear hairpins on Phil's K1200 proved tricky because of the long wheelbase and it took a bit of practice to get used to them.
At the top we stopped for a coffee and took in the spectacular views and as we crossed the border into Italy we tried marmot spotting – without success. We then rode down the Italian side heading to Aosta and from there we used the Mont Blanc tunnel to get back to Chamonix.
It was only a short blast but in the space of a couple of hours we'd managed to ride a loop that took us to 3 countries, over 2 mountain passes – 3 if you count the Montets – and through 1 tunnel. Not bad going for an afternoon's work.