Location:

D2205 & D64 St. Sauveur Sur Tinee to Jausiers (48 miles)
Coordinates: 44.326699,6.807473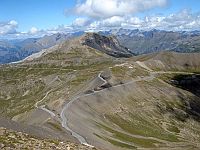 There's some confusion surrounding the Col de la Bonette and it starts with the signpost at the foot of the climb that makes the claim "Col de la Bonette-Restefond, 2,802m above sea level, highest road in Europe". This statement is not quite true as the road only rises to 2,715m and the Col de l'Iseran at 2,770m, Passo dello Stelvio at 2,758m, and Col Agnel at 2,744m are all higher. At the top of the Bonette however there is a turn off to the Cime de la Bonette and it's this road that reaches an altitude of 2,802m. Starting from St. Sauveur Sur Tinee this ride is a spectacular and varied 34 miles up the southern ramp to reach the scenic loop road, and a glorious 14 miles down the northern ramp to Jausiers. Simply stunning – not to be missed.