Location:

D918 Arreau to Ste. Marie de Campan (16 miles)

Coordinates: 42.9422716,0.327834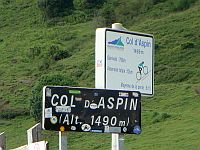 Just north from Arreau, at the end of the Col de Peyresourde, you take the left turn onto the D918 which takes you over the d'Aspin to Ste. Marie de Campan, and the start of the Col du Tourmalet. Although it isn't high we would recommend this road, as it's nice to ride and the scenery is worth it. The eastern ramp up from Arreau is quite tight and there are some blind bends but it opens up towards the summit. The western ramp is equally enjoyable, with both open and tight sections.