2006 Part 5:
The Montenvers Railway & Mer de Glace
The stormy weather that we'd encountered in Switzerland yesterday arrived in Chamonix early this morning and it was wet until lunchtime. No a problem though because there wasn't a ride planned for today anyway. We were all too aware of the long haul up the autoroute that lay ahead of us. Instead we spent the morning checking the bikes, packing up our gear, cleaning the chalet – generally just relaxing.
The weather did clear a little by the afternoon and the roads had started to dry although it remained overcast. We toyed with idea of going out for a short blast but we came to our senses and instead headed into Chamonix for a bit of a look around. We took a train ride up to the Mer de Glace on the Montenvers Railway before we all cracked and retired to a bar for a few afternoon beers.
Amongst the topics we discussed was what we were going to do for dinner. After a week without a curry everyone was getting withdrawal symptoms and Kyle knew of an Indian restaurant in town. The decision was made although some of us might come to regret it before the ride home was over.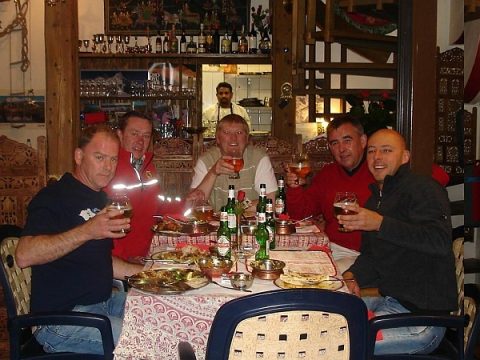 ---
Chamonix to Bewdley
With our stay in the Alps at an end, the time had come to return home with the reality check that it's an 800 mile ride from Chamonix back to Bewdley. Too much to ride in a day but manageable over couple of days. We wanted to knock off as many miles as possible on the first day so we were only left with a short dash to the ferry terminal on Sunday morning.
The ride to Etreaupont was about 430 miles and we figured it would take around 7 hours. Fortunately when we woke the weather had improved and we were all packed and ready to roll shortly after 9am. Not bad considering we'd had a bit of a boozy day yesterday.
Phil was trailering his bike up the autoroute with all the luggage and while the bikes were quicker on the road, they lost time with fuel stops and at the peages. As a result we all arrived at Le Clos du Montvinage in Etreaupont all together. Phil had found the hotel and it was lovely. Quiet and relaxing with very friendly owners, and a superb restaurant.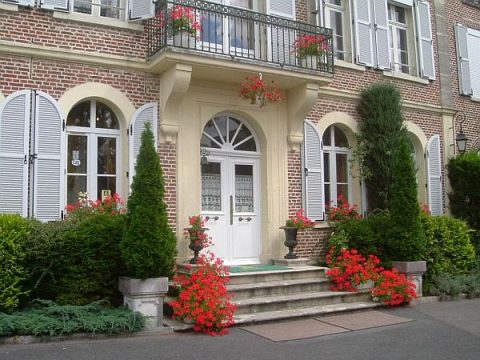 The following morning all that remained was a short 130 mile dash to Calais – mainly autoroute – a ferry crossing to Dover, and then a final 220 miles or so of motorway to cover before we'd be back home in Bewdley. The journey home was uneventful although the high winds we experienced were enough to keep us alert right up until the very end.
---
On a final note, thanks from everyone to Phil for his route planning, hotel bookings and all round navigation throughout the tour – we promise we'll all have our own sat navs next year. And a big thank you to Mark for letting us use his chalet – we hope you can make it next year.