Location:

Route 11 Wassen to Innertkirchen (28 miles)

Coordinates: 46.7292082,8.4467119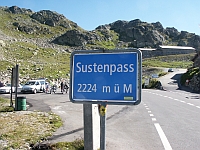 The Susten connects Wassen in the Canton of Uri, a few miles north of Andermatt with Innertkirchen in the Canton of Bern. From Wassen the pass road, built between 1938 and 1945, climbs 1,308m in 11 miles at an average grade of 7.5%. From the Innertkirchen side, the road climbs 1,602m in 17 miles at an average grade of 5.8%. The road from Andermatt to Wassen takes you past the Devil's bridge, or Teufelsbrucke, on the old road. The story goes that in return for the Devil building the bridge the villagers agreed that he could have the soul of the first person to cross it. The villagers fooled the Devil by sending across a goat!