Location:

D902 Briancon to Chateau-Queyras (22 miles)

Coordinates: 44.819732,6.734978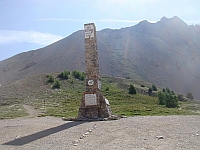 The D902 connects Briancon to the north with the valley of the Guil in Queyras, which ends at Guillestre in the south. There are forbidding and barren scree slopes with protruding pinnacles of weathered rock on the upper south side. Known as the Casse Desert this area has formed a dramatic backdrop to some key moments in the Tour de France, and often feature in iconic 1950s black and white photos of the race. The Col d'Izoard is frequently on the route of the Tour de France. It is classified as an Hors Categorie climb – see Col du Tourmalet for an explanation. The southern side from Guillestre is almost 10 miles long with an average gradient of 6.9%. The climb from Briancon to the north is 12.4 miles long with an average gradient of 5.8%. Well surfaced on both the northern and southern ramps this Col is recommended for bikers both for the quality of the road and the stunning views. There's a small cycling museum at the summit, along with a memorial to Coppi and Bobet. From Chateau-Queyras you can pick up the D5 to Col Agnel as we did – highly recommended.