Location:

D918 Laruns to Argeles Gazost (29 miles)
Coordinates: 42.9766485,-0.3396194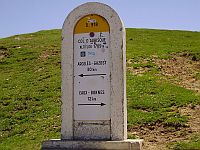 The Col d'Aubisque is the second most visited pass in Tour de France history – after the Tourmalet – and joins Laruns – also the start point for the Col du Pourtalet – with Argeles Gazost via the D918. When crossing the Aubisque the Col du Soulor is also crossed and whilst it rightly finds fame in cycling circles this is not pass we'd recommend. The road surface was dreadful, very narrow and deformed, and in our opinion it is best left to the cyclists.