Location:

D44, D85 & D618 Saint-Beat to Saint-Lary (19 miles)
Coordinates: 42.9448855,0.8540644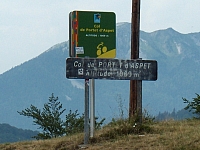 This col on the D618 is another nice one albeit not particularly high. It's not particularly steep either with an average gradient of 3.1% on the east side and 4.1% on the west side. However, you do need to take care with the descent on the west side as there some steep tight sections with a big drop on the right hand side. It was here that Fabio Casartelli crashed and died during the 1995 Tour de France. There is a memorial to him at the side of the road. The great Raymond Poulidor almost suffered the same fate during the 1973 Tour.