Location:

D908 Barcelonnette to Colmars (26 miles)
Coordinates: 44.2972381,6.5942891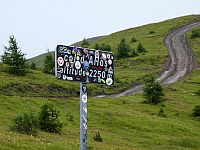 he D908 connects Barcelonnette with Colmars and crosses Col d'Allos. The northern ramp is mainly single track with many blind bends so watch out for the ubiquitous campervans, and enjoy the lovely scenery as you climb through the forest and out above the tree line. There is a nice auberge at the top which is a good place for a stop. The southern ramp is wider and takes you through some dreary looking ski resorts to Allos and onto Colmars, but still with some decent scenery.